New York City is full of surprises. For instance, there is a magical green land that floats above the grey sea of building fronts and streets that are flooded with taxis and busy, busy people.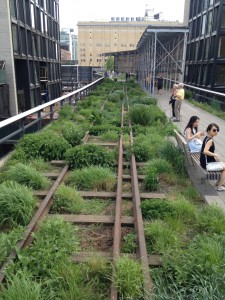 On one of our spare evenings, Jenna and I ventured our way up the stairs to this 1.45-mile long magical green land, which is actually referred to as the High Line. What we found on this elevated section of the city was a decrepit portion of the New York Central Railroad, covered and adorned with greenery and botanical gardens and organic looking artwork. Jenna and I skipped along the railroad, ooh-ing and ah-ing at every cool new feature that came into sight. We admired the beautiful, mostly contemporary high rises and apartment buildings that surrounded the area.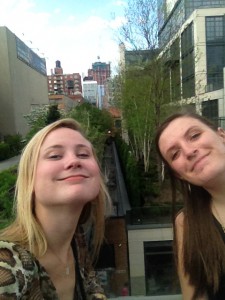 Alas, as we descended the stairs back to the busy-bee atmosphere of classic New York City, we caught sight of a cute little restaurant called Cookshop (on 10th Ave.). Upon arriving at this cafe, we asked for a spot at the bar and enjoyed delicious drinks (Kumquat margaritas and grapefruit mojitos) and great company. The night got even better when we met up with Myers and an old friend, an alumna of W&L, for juicy burgers and a medley of fries (which came with five different types of dipping sauces). Finally, we ascended to the 18th floor and enjoyed a beautiful view of the city from a rooftop bar. It was an enchanting night, a big city adventure for students from a small town.
— Gretchen Sengelmann