During our class' recent trip to New York, we were repeatedly told that people love magazines. Although everyone we heard from were successful in the magazine industry, I was skeptical. At least for me personally, magazines have played a very minor role in my life. My family is not into them, and I subscribe to only one. Candidly, I thought our New York presenters were simply exaggerating their power for effect.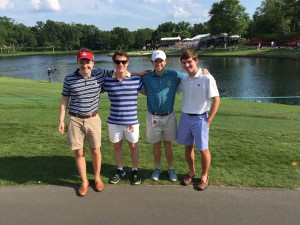 But after taking a trip to Charlotte this past weekend to watch the Wells Fargo Championship—PGA Tour with some friends, I learned that my limited experience with magazines is the exception, not the rule. We stayed with my roommate's family and, among the things in their home was a large basket in the family room filled with magazines. They were not just there for show. My roommate and his parents talked about them from time to time during our stay—reflecting a sincere interest in, and affection for, magazines.
Needless to say, I am glad that I was able to watch some great golf with some great people. But I am also glad that I was able to see magazines in a different light. I now believe that they can impact people, and that they can shape lives. So even though I was skeptical at first, I definitely think that people love magazines, and that they will not disappear any time soon.
— Spencer Payne