You don't know how hard it is to name a magazine until you try to create a title yourself. At least that was my experience with our magazine the Valley Dish. Thinking of the many other magazines I know – Glamour, Vogue, Golf Digest, The Knot, Architectural Digest, The Roanoker – the names all seem so easy and obvious. Hindsight bias inflates my sense of satisfaction and familiarity with these names, so I don't even realize how difficult it probably was to create these renowned titles. They just seem so seamless and obvious.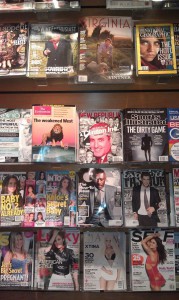 With these well-known titles in mind, we sat down as a group on our first day of class to brainstorm titles for our own magazine: a food and drink magazine from the southwestern Virginia region. We knew it had to be clear and concise so people would immediately recognize its larger significance in the culinary space. We also wanted it to be hip and fresh, so we could attract a younger, millennial-based audience.
To begin, we started with words we liked:
Blue Ridge
Shenandoah
Virginia
Virginian
Fridge
Table
Dish
Cuisine
Valley
And then we tried out different combinations and words:
Blue Ridge Fridge (too DIY)
The Virginian Table (too old and traditional and too hard to say)
Table (eh)
Dished (gossipy)
…Among others.
Finally after intense discussion, passionate puns, consumer market examination, and testing of the words, we decided upon The Valley Dish. 
This name fit for many reasons. First, the "valley" alludes to the Shenandoah and Roanoke valleys and the I-81 corridor. This is consistent with our plan to target southwestern Virginia. Second, "dish" evokes images of food, tables, plates, and more. This conveys a gentle hint to potential readers that our publication has to do with dining, without saying it directly. It even can have a double meaning: "dish" as a serving vessel and dish as in "to dish" the story.
"I love the name Valley Dish," said Art Director Lindsay Cates. "It's very unique and it really fits with the direction we are taking with the magazine."
She added that the name lends itself well to a having a good design, something she is excited to start working on. She said the design will be simple but colorful. She hopes to really showcase the pictures that the photographers get of delicious food and cool places in the area. Now that we have a good name, we're off to a good start!