Be flexible. Be nice. Do good work.
Julie Campbell offered up the secrets of the amazing career she's had in magazines.
It's a zigzaggy trans-Appalachian trip that took her from a B.A. in history to a New York secretarial school, and from magazines with sexy titles like Plastics Machinery and Equipment and CPI100 to the job she has now, editor of W&L's alumni magazine. Julie's survived having a crazy coke-head editor (long ago, not one of the magazines mentioned here) and having a state budget crisis pull the plug on the Virginia history magazine where she was editor.
The magazin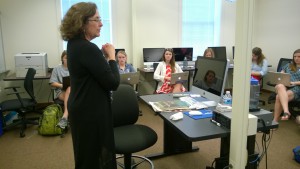 es of her life passed through our hands, a reminder of how magazines like jobs go poof into the abyss. But Kyle recognized one by its size and heft. Yes, CPI100! He remembered hauling tons of those magazines out of his grandfather's attic. His father got that magazine in New Jersey when Kyle was a lad.
Be nice, but take opportunities — even in Colorado. Still, Julie Campbell wonders what might have happened had she taken that secretarial job offer at Condé Nast back in New York in the early days.